Published August 17, 2020
$1M GLS20 Match is Met—Thank You!
We at the Global Leadership Network are so grateful that you have taken up the charge to use your leadership and influence to bring positive transformation to our world. You are the real heroes who give us reason to host The Global Leadership Summit each year.
Thank you for helping us share this experience beyond the two days of the Summit in the U.S.!
After the GLS in August, bringing this event to another 123 countries in 2020 requires a lot of translation work, training and resources, especially in regions where poverty and corruption are an everyday reality. But with your donations, the Summit audience has come together to inspire vision and ignite transformation, reaching hundreds of thousands of people through the GLS this year.
Collectively, the generous GLS20 audience gave toward 100% of the $1M match challenge! THANK YOU!
Your generosity provides:
Translation of the 2020 GLS into 60+ languages
Scholarships for those with limited resources
Reduced ticket rates for youth
Safe event venues, equipment and technology training
Start-up costs to hold the GLS in new cities
Encouragement, inspiration and empowerment to lead positive change where it's needed most
The Global Impact
Your donation brings the 2020 GLS to places like U.S. prisons, homeless shelters, crisis centers, trafficking survivors, at risk youth, and countries like Liberia, Lebanon, Venezuela and another 123 countries this season.
You see us as Christ sees us—valuable.
One thing that has me in awe about The Global Leadership Summit is the outlook you carry—that including us prisoners in your mission is of great importance. Labeled as outcasts and menaces to society, you show by your efforts in making the events available to us that you see us as Christ sees us—valuable.
– Alejandro, GLS attendee at Heritage Trails Correctional Facility, U.S.
I saw my life in a different way.
It's easy to go to a leadership conference and write yourself off saying, I don't fit in because I'm not leading an organization, or I'm only 13. But because I heard that message over and over—everyone has influence—I saw my life in a different way. I realized my life isn't just about me. If everyone really has influence, leadership development matters, even as a 13-year-old.
– Hannah Gronowski, GLS attendee, U.S.
The ripple effect is creating a better world.
The GLS is critical. In many areas of the world, there are multiple avenues people can pursue to fine-tune their leadership ability. But this is not true in countries like mine. Having done this for about 9 years, the GLS has now become a household word. And the result is transformation. Inevitably it's creating a better country. It's creating better opportunities for young people. And because we are so global, the ripple effect is creating a better world.
– Dr. Katurah Cooper, GLS attendee, Liberia
Summit attendees view themselves as representatives of hope…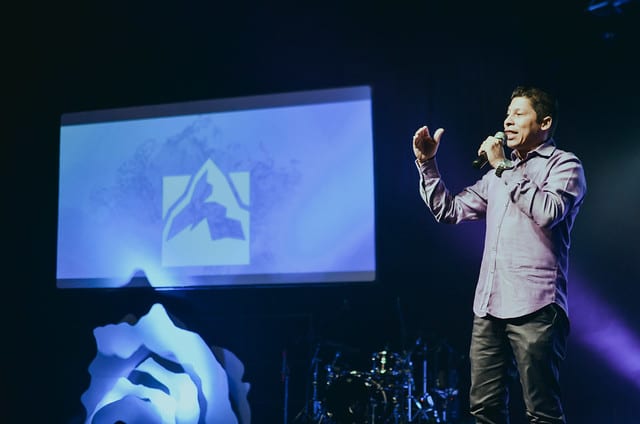 We believe that the church is the hope for a country like Venezuela. By fortifying the leadership within both the church and business, this will help spur on reconstruction that is to come. Doing that which is right in the eyes of God, coupled with using the abilities He has given us, will allow us to have a better tomorrow. Through the GLS, the church has realized it is playing a massive role in the crucial moment our country finds itself in. Summit attendees view themselves as representatives of hope and capable of doing something for their country.
– Alvaro Rea, GLS attendee, Venezuela
Imagine what could happen if each person who attended The Global Leadership Summit committed to stewarding their leadership to ignite positive transformation within their sphere of influence?
That's tens of thousands of people in the U.S. multiplied by at least ten lives impacted. Now imagine the global audience of hundreds of thousands of people being inspired by the GLS in 2020? That's millions of lives impacted!
Thank you for joining us to continue to share this experience in places across the globe that are desperate for leadership that ignites positive transformation.