Published December 6, 2021
Hope for Kids & Families in Crisis Multiplies with Leadership Development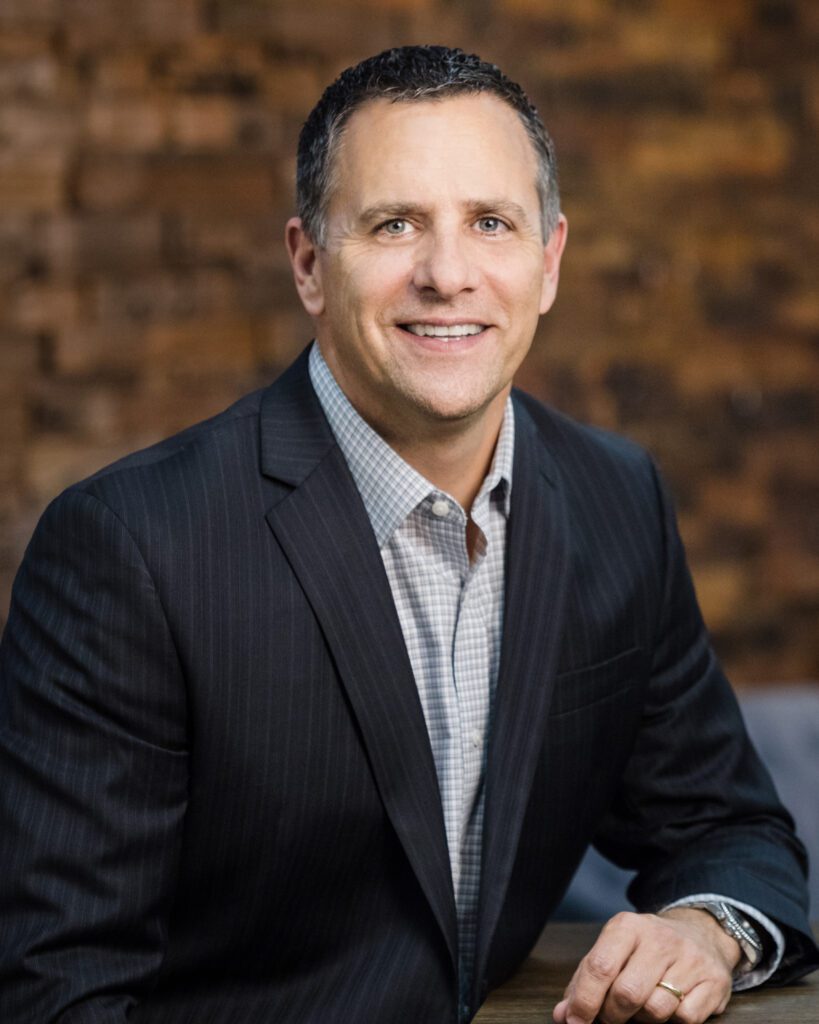 Out of college, Kevin Enders started his business career, got married, and was living the "American dream." But when God intersected, his life was turned upside down. It not only changed his life and the life of his family, but also the lives of children across the U.S. through the nonprofit organization he now leads called 4KIDS. Crediting The Global Leadership Summit for the opportunity to develop the leadership of their staff, Kevin's incredible team has grown and expanded their reach despite the immense obstacles brought on by the pandemic.
Kevin Enders' journey is an incredible reminder of what God can do through us when we step into His calling for our lives.
James 1:27 says, Religion that God our Father accepts as pure and faultless is this: to look after orphans and widows in their distress and to keep oneself from being polluted by the world.
The Invitation
"My brother-in-law invited us to attend church with him at Calvary Chapel in Fort Lauderdale, Florida, where God intersected into our lives," said Kevin. "My wife and I were saved in December of 2005 and it changed everything. I didn't know this new life we live could have existed."
God, you've been so good to us. How can we give back?
What happened after Kevin and his wife became Christians started them on a journey that would change their lives forever. "At the time, we had three kids of our own and an empty bedroom in our house. And we said, God, you've been so good to us. How can we give back? We heard about 4KIDS and their work with kids in foster care, and we couldn't get the kids out of our heads. So, together in 2007 we became licensed foster parents. We had two boys and a girl of our own, so we had no plans on adopting but God had a different plan."
Priorities Readjusted
It's all over scripture—God's heart beats for vulnerable children. This truth became more and more real to Kevin and his wife. While living the American dream, God changed everything. "He readjusted our priorities," said Kevin. "We started serving as foster parents and by early 2007 we had a lot of lot of babies coming in and out of our house. We were not sleeping, and we were on this crazy cycle, but we knew we were doing what God called us to do.
"Then we ended up getting this little boy named Ryan. He was two months old. He changed our lives and we ended up adopting him. Later, we got a call about Ryan's little sister, so we ended up fostering and adopting her too. It really completed our family, but it was just the beginning of our story. We then became super advocates for this ministry."
Called to a New Role
While Kevin was out in the business world, running his own business, then in leadership at a global technology firm, he was also traveling all over, telling people his story. "I was reading my Bible on airplanes," said Kevin. "People would ask me, are you a pastor? No one reads the Bible on an airplane unless they are a pastor! I was just falling in love with Jesus, and Jesus was changing my heart from the inside out. It was this profound season of my life. I was part of this big half a billion-dollar tech company, but I always felt like my calling was to be here at 4KIDS."
Jesus was changing my heart from the inside out. It was this profound season of my life.
As God would have it, in 2014 the role for president of 4KIDS became open, and Kevin was presented with a unique opportunity. "I went to breakfast one morning with my friend Tom, who's the Vice President of Church and Community Relations at 4KIDS, and he said, hey, I've been praying. We went through 400 resumes and couldn't find the right person for this job. Would you do it? And I said, if that's what God's plan is, then of course! So, I started interviewing with the board and the staff and God confirmed that this was my calling in so many different ways."
Kevin decided to walk away from his career and 30 years in business to step into a brand-new role as President & CEO of 4KIDS. As they head into 25 years in ministry in 2022, with the last four and a half under Kevin's leadership, they have impacted over 30,000 kids just in South Florida and the Treasure Coast alone, had over 1,000 foster families licensed, over 750 adoptions, and not one failed adoption. "It's been so amazing and profound," said Kevin. "I'm blessed and honored to be here, to lead this amazing team and the families that serve in these communities. I don't try to set limits on God or what to expect, but I never would have expected to be here bringing hope to kids in crisis. I don't know what God's plans are, but I'm super excited to be in His will and know that I'm right where I should be!"
Hope for Kids & People in Crisis
With a mission to provide hope for kids in crisis and a vision for a home for every child, Kevin is leading 4KIDS to do something not only for kids in foster care, but also in leading the Church to focus more on people who are in crisis through new initiatives.
Over the last couple of years, there has been a growing trend in Christian circles to stop counting people that come to church and start counting people that are out serving the community. While 4KIDS is still relentlessly pursuing a home for every child that comes into foster care, they're also asking how to inspire the Church and reach out. "We launched a new initiative last year in partnership with CarePortal out of Kansas City," Kevin explained. "In six months, over 57 churches signed up! We've already impacted over 600 kids and parents with prevention and support to try to keep families intact through the pandemic."
I never would have expected to be here bringing hope to kids in crisis.
Not only have they made great strides with initiatives through local churches, but they are also doing great things around professional therapy and trauma support. This has been especially critical with the situation exacerbated by the pandemic and the increase of trauma happening with kids. "It makes me want to work even harder," said Kevin. "So, during a pandemic, when other ministries are shutting down, we were getting amazing generosity from the community and launching a new initiative to get prevention started."
"We had this bold vision three years ago to build a team of 28 professional Christian therapists to support kids and families," Kevin explained. "At the time we only had one therapist on staff. By June of 2021 we ended up with 30 people on this team! Praise the Lord! These therapists love Jesus, all of them have either their masters or licensure in trauma-informed counseling for kids and families—they are an incredible team. What they do is train foster and adoptive families on how to parent kids that have traumatic pasts, and they also see the family and the children in therapy to help them overcome trauma. God is a God of healing and transformation, so it's just been amazing to see over this last year."
This amazing team saw 490 clients and delivered over 10,000 hours of therapy last year! And because the community helps fund this initiative, they don't charge foster families or adoptive families who come through the program. They also provide free therapy training every month to train teachers, parents, the police force, and the fire department.
If you welcome one of these children in my name you welcome me. Matthew 18:5.
"We're really all about helping families heal and I'm excited about the vision to become a family ministry," said Kevin. "With focus on orphans, vulnerable children, and families, there is a recipe for revival in the church. In collaboration with ministries across the country, I believe that God is doing something profound. It's a mission after God's own heart: If you welcome one of these children in my name you welcome me. Matthew 18:5."
Leadership Development Equips 4KIDS to Multiply Impact
The work that 4KIDS does is so important, and this is why we at the Global Leadership Network are so passionate about supporting leaders like Kevin and his staff in their leadership growth to maximize the impact they have for kids in crisis through events like The Global Leadership Summit.
"Our organization is focused on getting better at investing in leadership development, so when I heard that my friend and local pastor, Bill Mitchell was going to make his church, Boca Raton Community Church, a broadcast site for The Global Leadership Summit, it was a no brainer to be a part of it," Kevin explained. "For me, coming out of the business world, the GLS was a great opportunity to invest in the leadership development of my staff of over 100 employees in six counties. We want to invest in our leaders.
Our ministry is thriving, the culture is super strong, and we have been rated a Best Christian Workplace Institute flourishing culture for three years in a row.
"Coming out of the business world, I was going to church, but I wasn't really plugged into this circuit of leadership development and people like Pastor Craig Groeschel. I was super impressed right out of the gate with what the GLS provides. So, we sent a whole team in 2017 and we've just been building more and more. This year we sent more people than ever. It's so important!
"As Christians, we're doing everything unto the Lord, so let's be excellent, and let's bring that same excellence from business into the nonprofit sector. It's not just for the staff, but it's also what they bring back to the whole organization. I want them to bring back their learning to the rest of the team, so we meet as a staff to discuss the talks and process them. It's been very valuable.
"It's true that when the leader gets better, we all get better. So, we have to constantly invest in our leadership. As a result, our ministry is thriving, the culture is super strong, and we have been rated a Best Christian Workplace Institute (BCWI) flourishing culture for three years in a row. If you came down and met our team that I'm surrounded with, you'd meet the best leadership team in the country. There's a ripple effect in what you guys do! It's so valuable because people need to know that the church is not dead. The church is filled with people who are super passionate. God is up to something. We feel it happening with other ministries across the country. There's some great collaboration that's happening like never before."
Join us at one of our upcoming events in 2022 and discover how you can multiply your impact in your organization. Learn more at GlobalLeadership.org/Events.